Plus and Minus
by David Easton
Overview
Plus and Minus is a board game based on the board game from the mid-1900s of the same name. It is based on strategically playing cards to move your players along the board to try and gain the highest score.
This version supports 4 human or computer players. The computer players take some skill to beat.
Screenshot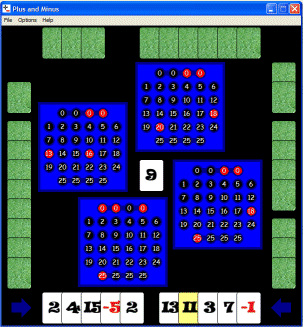 Rules
Objective
Each player has a board and four pieces.
The object is to move the four pieces from 0 at the top of the board to 25.
Playing
On a turn each player must:
Select a player piece to move.
Play a card from their hand.
The number on the card played is added to the number of the top card (i.e. the card that was played by the previous player) to give the number of spaces that the piece will move.
Only 1 piece may occupy any one space.
A piece may not move backwards beyond 0.
A piece moving beyond 25 will go bust and be placed onto 0.
Change history
Version 0.5 (09 May 2005)
Score window displays a maximum of 12 previous rounds.
Reduced size of playing area from 660x662 to 600x600.
Version 0.4 (03 May 2005)
Added arrows to show whose turn it is.
Players take it in turn to start a round.
Score windows displays a maximum of 8 previous rounds - fixes bug where window could grow so large that the next button was not visible (reported by Eric Amundsen)
Fixed bug in rules that could lead to game locking up with no moves possible
Version 0.3 (31 Dec 2004)
Download
Plus & Minus is available either as a Starkit or a windows executable version.
Starkits are cross-platform and my run on at least 16 platforms, including Window, MacOS and Linux, if the single file Tclkit is installed
Starkit Version
| | |
| --- | --- |
| Download: | plusminus.kit |
| Platforms: | Any platform running Tclkit 8.4+ |
| File Size: | 112 Kb |
| License: | Free |
Windows executable
| | |
| --- | --- |
| Download: | plusminus.exe |
| Platforms: | Windows XP, 2000, NT, 98, 95 |
| File Size: | 1043 Kb |
| License: | Free |
Install
Copy the file
Uninstall
Remove the file
Links

David Easton